About Our Logo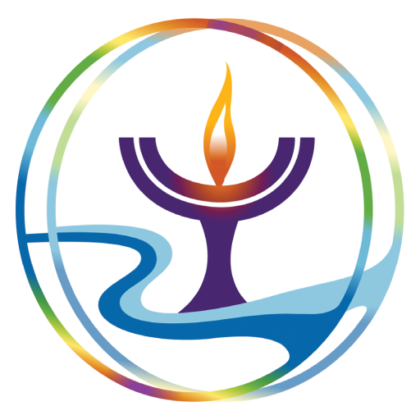 We created our logo using the quintessential UU process.  Everyone was invited to tell the design team what they felt was the essential elements what would identify our congregation apart from all others.  The results were plentiful.  The design team then sifted through the ideas and agreed on the following elements:
A chalice, with flame
The two interlocking circles honoring the heritage of both The Universalist Church of America and the American Unitarian Association
Representation of the Red River that blends together those living in Oklahoma and Texas
Some indication of our diversity
The team created a series of story boards, showing various ways of combining the elements, and posted them in the sanctuary for comment.  Laden with our data, the team turned to a friend of the congregation who owned a graphic design studio.  He took all our ideas and put out a call for designs.  A young design student in Estonia submitted his understanding of what he envisioned we wanted.  It was perfect, in fact it went beyond perfect – by using two different shades of blue, we could see two capital R's in the flowing river.  He cleverly announced our diversity by coloring the two interlocking circles as rainbows.
We hold the trademark copyright of the logo and while we are flattered several other congregations have copied and used it on local publications, websites and in other ways, those wishing to make use of the logo need to first contact us to purchase a one-time license.
We're proud of our logo, it speaks well of who we are as a small lay-led Unitarian Universalist congregation. We hope you enjoy seeing it.