Use Our Building
Our building works well for social events up to 50 people.  The rooms are charming
Our Chapel:
Looking for an attractive room for your wedding or another rite of passage? Our chapel is totally accessible, with handicapped rest rooms on the same level.  The chapel is fully carpeted, with two build-in overhead projectors and two screens.  We have hear assist handsets along with journeymen cordless (and nearly invisible) headsets for speakers.  Seating for 50.  Read Using our chapel for a wedding for details.
We have two private rooms for wedding participants to dress.
Prices are reasonable and include an AV tech who will operate our system and a cleaning crew.
The Chapel can also be used for meal functions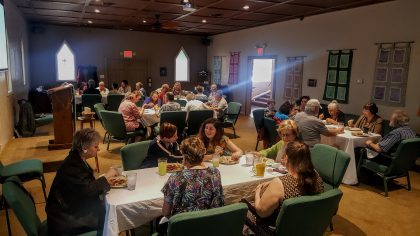 accommodating up to 40 people comfortably.  Using the Chapel for meals requires the use of our cleaning service included in the room charges.  Meals must be catered from any caterer as we do not have a kitchen.
Gil Alexander Room:
The first floor front hall, with a fire place and oak paneling that runs up the stairway to the second floor, is a pleasant introduction to the original house.  The Gil Alexander Room off the front hall and can accommodate 15-20 people for an event.  The roomr is equipped with a flat screen monitor and a DVD player available for your use.
Also on the first floor is the servery equipped with two microwaves, a full size oven and two dish washers. There is no kitchen available.
You can read our Building Usage Policies and Room Use Application for details.
Contact us if you wish more information about meeting in our building.