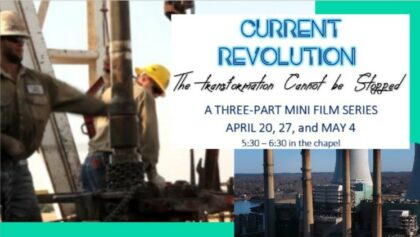 For decades the utility industry has been a driving engine of the U.S. economy, contributing significantly to our progress and standard of living. But now, because of reduced demand from a number of factors, including more efficient energy systems, power companies face a crisis that requires them to capture new market share to survive in the 21st century. Watch the 1:52 trailer.
EPISODE 1:  The Transformation Cannot Be Stopped
American Resilience Project's new film series and associated outreach campaigns tackles the challenge of how the utility, auto, tech, and defense industries can help modernize the aging power grid to make it more secure and responsive to the needs of its users while enhancing environmental performance. With a focus on national security, economic prosperity, and environmental justice, the films, and campaigns will show how the nation can embrace smart policies and investments that support grid modernization through distributed renewable energy generation and the development of an electric vehicle infrastructure.
EPISODE 2  Nation in Transition
Nation in Transition explores the coal-to-renewables transition on the Navajo Nation and across northern Arizona through the stories of workers, their families and communities, business and tribal leaders, utility executives, policy makers and environmental activists. The film offers a roadmap for accelerating and navigating just energy transitions for workers and communities everywhere.
EPISODE 3  Workforce Rising
The rapid advancement of electric vehicles is disrupting numerous industries and workforces, and the lack of charging infrastructure and grid capacity is lagging behind advances in automotive technology. The already-passed Bipartisan Infrastructure Bill provides the greatest opportunity to accelerate the transition, as long as the money is spent quickly and wisely.