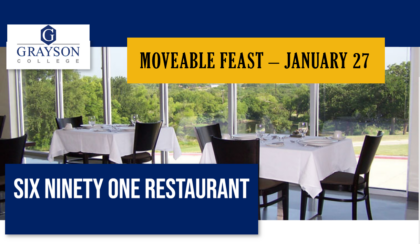 Moveable Feast is our congregation's interest group devoted to food.  The "Feasters" tend to gather once a month (more or less) to enjoy a meal together – prior to the Pandemic it was more than not at someone's home.  Currently the Feasters get together at a local restaurant.  Marion and Elbert Hill are the coordinators.
EVERYONE – members, friends, visitors and the curious – are encouraged to participate, events are always Dutch Treat gatherings.
HERE'S THE DETAILS ABOUT THE JANUARY FEAST:
For January, let's do a lunch at
Six Ninety One Restaurant
, the restaurant in the Culinary Arts Center located in the northeast corner of the Main Campus of College that's run by the Culinary Arts Dept.  The food is always good, and it helps the C.A. students prepare for careers in the hospitality industry.
They serve lunch most Wednesdays and Fridays, from about 11:15 to about 1:45.  When we get a count, I'll make the reservation.  The date in January that will work for the Hills is the 27th, a Friday, and I suggest 11:30 (though that's flexible–please let me know if you prefer a later time).
Price is usually around $12 to $15 per diner.  Tips are encouraged, since these go into a fund that allows students to attend conferences, etc.  The head chef tells me she won't have a menu until about 24 hrs. before the date, but they usually offer a couple of choices in entree and often in other courses.
Please get back to me soon to reserve your place for Jan. 27.  As a reminder, the appreciation luncheon at the church is counted as MF for February.  Please give some suggestions for what you'd like to do in March!
Marion and Elbert
FFFs
YOU CAN JOIN THIS FEAST
HERE