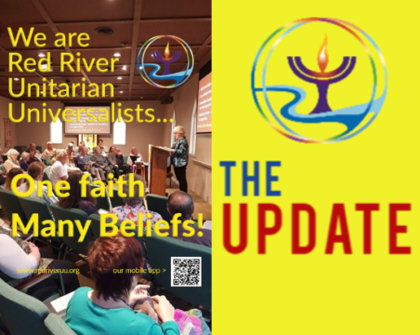 Download this week's UPDATE here
or read it below without having to download it.  Same content, just not a spiffy looking😏
| | | | | Dec 28, 2022 – Jan 4, 2023 | |
| --- | --- | --- | --- | --- | --- |
This Sunday is New Year's Day,

January 1, 2023
11:15

The Morning Assembly

Keeping the Church

in your Heart.

An informal open house for all who wish to drop in.

While there will be no morning assembly on this New Year's Day holiday, the chapel will be open with members of the worship and AV teams ready to greet all who may wish to drop in for an informal Open House. Nice people, wonderful surroundings, and lively conversations. Do come, if you wish.

The Adult Forum and Conversations & Calories are taking the morning off.
Adult Forum

NO ADULT FORUM THIS SUNDAY

Conversations & Calories

NO CONVERSATIONS & CALORIES THIS SUNDAY
Join Our Nerdy New Year's Eve Party

Come join the Texoma Nerds for a nerdy New Years Eve of tabletop gaming! Board games, card games, roleplaying games, almost anything you might want to play is welcome.

From 6pm-1am, we will ring in the New Year with games, a gift exchange, and good company.

In the Alexander and Emerson Rooms at church
IT IS NOT HAPPENS THIS WEEK Dec 18-28

The Adult Forum – NOT on New Year's Day
Conversations & Calories – NOT on
Chair Yoga – NOT on Dec 27
IT IS NOT TOO LATE …

Last Call! If you forgot to send in your article, announcement, or invitation to something and still want it in the January 2023 newsletter, you MUST send it to news@redriveruu.org in before 10 pm tomorrow, Thursday, Dec 29!
Watch the Dec 25, 2022,
Morning Discourse

"A Christmas Birthday"

A special, touching Christmas story written by the Rev. Dr. Don Fielding, read by members of the worship team.
We're the only liberal religious voice in Texoma and with your help we can do more. Online donations via Venmo, PayPal, Credit & Debit cards, or by check are safe, secure, and take only a minute or two.

With Gratitude we thank you.