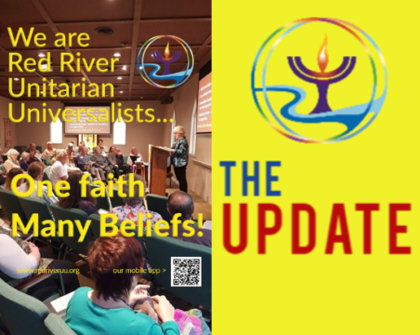 Read this week's UPDATE here
Or read it below without downloading it (same content, just not as pretty!)
This Sunday, Oct 2, 2022

TO OUR VIRTUAL FRIENDS: Join us for our entire morning via Zoom. One Zoom meeting ID 989 0789 7878 will bring you to the Adult Forum and the Morning Assembly and tarry for Conversations & Calories, our answer to the traditional 'coffee hour" 🤗

Adult Forum

10:00

In Person in the Alexander Room and streaming live

on Zoom Meeting ID: 989 0789 7878

Comparative Religions

A Video series from The Great Courses now through Oct 9

Details here

______________________________________

The Morning Assembly

11:15 am

In Person in the Chapel and streaming live

on Zoom Meeting ID: 989 0789 7878

Stages of Faith or Spiritual Development

The Rev. Walter Norris, guest speaker

Thomas Garland, worship associate

In 1981, James Fowler, a Methodist Theologian at Emory University, developed the idea of a developmental process of human faith or spirituality. We will consider the different stages that endure throughout a person's individual life. An example of one of these stages is the last or sixth stage, Universalizing Faith. It is the stage that many never reach. Dr. Martin Luther King, Jr and Mahatmas Gandhi are those who have reached this phase. It is a phase that considers all people important. They strive to create social justice in the world.

Who's Doing What This Sunday

Board Rep: Marilyn Alexander
Greeting us at the door: Carolyn & Bruce Cameron
Ask Me Host: Amy Hoffman-Shehan
Leading today: Walter Norris
Worship Associate: Thomas Garland
AV Crew: Carole Harner, Don Rogers, Jim Holmes, Marla Loturco
Sunday School Leader: Ellie Dyer
Providing refreshments: Amy Hoffman-Shehan, David & Kelly Dyer, Michelle Haynes, Walter and Susie Norris
Red River UU at the Fest

Oct 1 from 9 – 4 on Main Street

The Denison fall festival is Red River UU's last scheduled outreach project. We will have a booth at the festival, where we will host a free Halloween costume swap and give away candy and trinkets.
This is part of Adrian Hinman's series of events that provide free clothing for anyone who needs it. Without specifically who are low income or transitioning, the series of swap events provides a valuable service to the community.

We need volunteers, especially during the afternoon! Please consider signing up to help by contacting Amy or Adrian to let one of us know of your availability.

Need some exercise (and you know you do.😏) Come help set up @ 8:15 or break down at 4:00 pm. Many hands will make the work go easily. Please!!
Chair Yoga Class

meets on Tuesday mornings @ 10 in the Chapel. Open to all who wish to participate, especially newcomers.
Last Sunday's Morning Assembly
Watch the Sept 25, 2022, Morning Assembly

"Peace Sunday #3: Living Peace"

Download The Morning Program here
Need a Church Directory?

The new Members & Friends directory was sent to everyone listed in it last week. If you would like to have a directory, send an email to directory@redriveruu.org
We're the only liberal religious voice in Texoma and with your help we can do more. Online donations via Venmo, PayPal, Credit & Debit cards, or by check are safe, secure, and take only a minute or two.

With Gratitude we thank you.