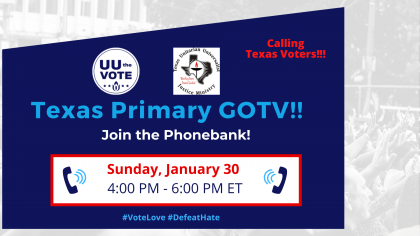 January 30 Community Action
Phonebank for Voting Rights: Texas Voters to the Primary!
1pm PT / 2pm MT / 3pm CT / 4pm ET
Organizing takes relationships & conversations — join us to talk with voters for upcoming primaries. We'll train you to make calls to invite people to take action for democracy. Join UU the Vote and TXUUJM – we are hosting a phonebank to Texas to turn out voters in the upcoming March 1st primary election. We know that voter suppression laws and partisan redistricting, abortion restrictions, and climate crises threaten the lives, safety, and political power in BIPOC and other marginalized communities. However, UUs, our partners, and frontline organizations are building power to win on the local and state levels. This is the first election in which Texans will be voting in new, redrawn districts. Let's join the work to make sure those community voices are heard in the 2022 Texas primary. Join Us.
SIGN UP HERE.