DOWNLOAD the morning program (arriving here on Saturday)
Join us online Sunday @ 11:15 on our YouTube channel or our Facebook Page
Online Coffee Hour:  Join is via Zoom, starting immediately following the Morning Assembly here
Sneak Peek about Dr. Tata's upcoming morning with us: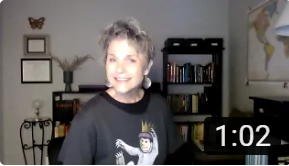 Holy Is the Longest Night  – the Rev. Dr. Christine Tata
Dark energy, scientists have recently discovered, accounts for more than two-thirds of the total energy in the observable universe; dark energy drives the expansion of creation. Now it's time for earthlings to celebrate the rich and varied beauty of darkness: in our language; in our persons, both on the surface and at our cores; and in our dreams, when we inhabit the darkness of healing sleep. Join the Rev. Dr. Christine, on the eve of the longest night of the year, to honor the dark.